About Rahima Wear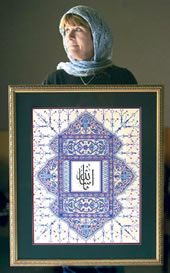 Mother of four and grandmother of two, Rahima Wear is a lifelong native of Napa, California. Possessing no formal training, Rahima has often been referred to as a "maverick" in the realm of traditional Arabic Calligraphers. Shortly after becoming a student of "Sidi" Shaykh Muhammad Sa'id al-Jamal ar-Rifa'i ash-Shadhdhuli in 2002, Rahima became drawn to the beauty of Arabic calligraphy and art and began her prayerful practice of Qur'anic calligraphy. About this she writes:
All of the pieces here come from Love. Love of Allah. If the Love is absent, so is the art. It is only by His Will and Magnificence that my limbs move to create each piece.
When I feel this Love, an unstoppable call comes over me to paint and write. Each piece of art is specific to an event or person in my life, though I often do not know who or what that is until the work has been completed.
It takes a lot of time to do this work. During this time in which I feel myself to be alone with God, I sometimes go through various states of emotion and understanding. Generally, the process is very peaceful for me. Often, a single deep realization emerges as I complete a piece.
The art has become my passion. I have always found the writings and art to have profound healing effects, which is one of the many reasons I am drawn to this art form. I hope that this calligraphy helps to open other's hearts to God's healing qualities as it has for me.
If you would like to learn more about the teachings of Sidi Muhammad al-Jamal, you can contact The Shadhiliyya Sufi Center in Pope Valley, CA for teaching schedules, workshops and events. If you would like to read more about Rahima Wear, there was an article published about her and her work in The Napa Valley Register on Nov.11, 2009.